Technical Data
Density

1.46 g/cm3 (ASTM D2395:2002)

Brinell Hardness (HB)

11,762 psi (EN 1534)

Thermal Conductivity

0.199 W/(mK) (EN 12664)

Water Vapour Transmission

μ=1300 (DIN EN ISO 12572)

Durability - Resistance against rotting fungi

Very durable (CEN/TS 15083-2)

Durability against mold and wood discoloring fungi

Very durable (EN 15534-1:2012)

Durability against subterranean Termites

High Durability against subterranean Termites - nearly no weight loss (ASTM D3345-08)
General introduction
Resysta eco-wood is an artificial wood product. It is produced with green technology, combined with natural wastes to form a product with a structure similar to natural wood without using any wood components.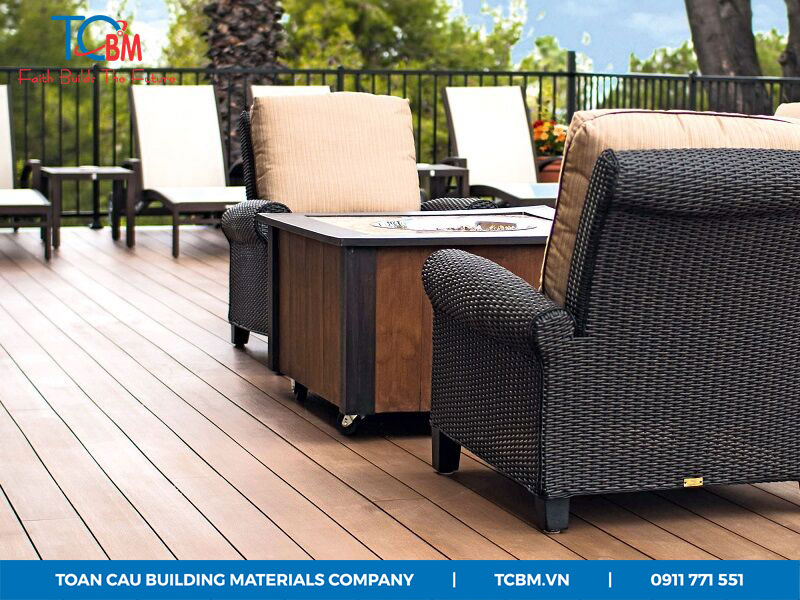 Resysta has a similar appearance to natural wood
Resysta owns the highlights of natural wood and overcomes its disadvantages. This product is resistant to the rigors of natural and technical environments.
Structure
Resysta eco-wood has 3 main components:
60% rice husks

22% common salt

18% mineral oil
These are purely eco-friendly ingredients. In particular, rice husk is a component that can be taken advantage of from agricultural waste.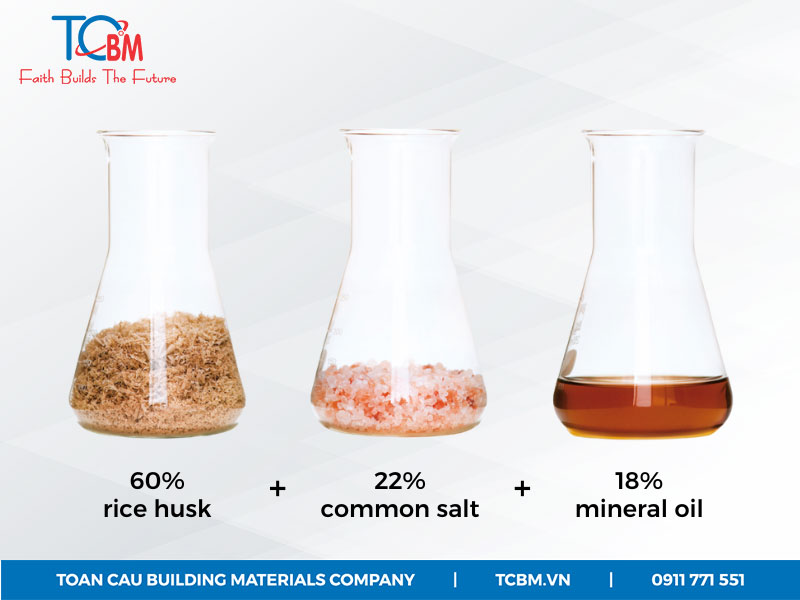 Components of Resysta
Advantages of Resysta
High aesthetic value
Natural wood is preferred because of its high aesthetic value. They bring a beauty that is both modern and warm. With modern production technology, Resysta eco-wood was born and possessed outstanding natural wood features. Almost indistinguishable. Give buildings natural beauty.
Resysta gives the building high aesthetic value
Colorfastness
Natural wood contains lignin compounds that cause the wood to change color after a while. Therefore, it loses the original beauty of the building. However, Resysta is made from rice husk, without any wood components, combined with modern paint technology. Therefore, it always retains its aesthetic appearance after many years of use, far superior to natural wood.
Resysta always keeps the aesthetic beauty of outdoor works
Waterproof ability
Natural wood is prone to swelling and warping when exposed to water. In contrast, Resysta has superior water resistance. It meets the strictest technical requirements and is completely unaffected.
Resysta swimming pool floor has the good waterproof ability
Resistance to extreme conditions
Resysta eco-wood is a durable material and is resistant to extreme weather conditions. For example, rain, snow, ice, etc. Resysyta wood panels do not seem to blister, shrink or crack like other materials.
Resysta also has UV resistance, salt water, and chlorine resistance. It can also resist pests, insects, and mold and won't rot. Therefore, Resysta "flies away" worries about termites or discoloration and corrosion.
Resysta withstands ice and snow without shrinking or blistering
Fire resistance
Resysta is also known for its fire resistance. The product has been tested and rated for Class A fire resistance according to US ASTM E84. So the user can be completely secure.
Easy to craft
Resysta eco-wood can be sawn, drilled, sawed, chiseled, sanded, painted, or polished,… easily. And a plus point of this artificial wood is that Resysta does not crack or break when crafted. Its cutting waste is all 100% recyclable.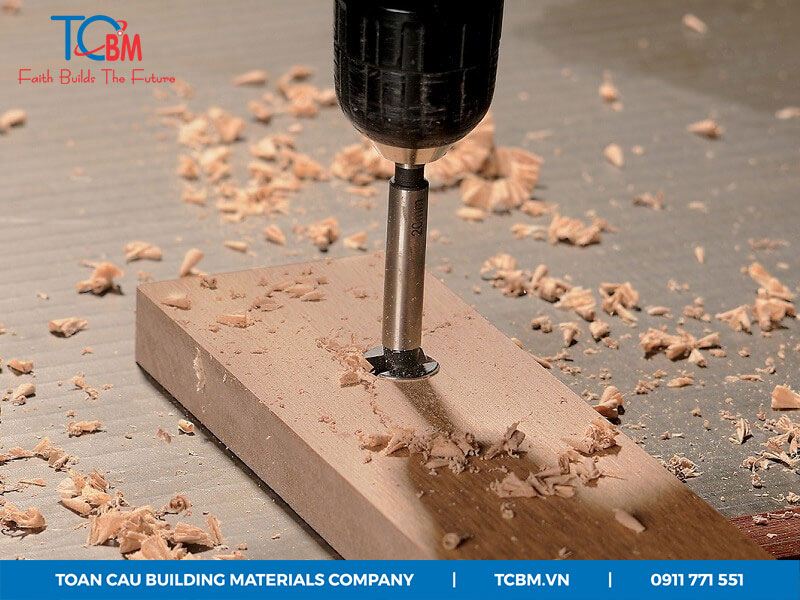 Can be easily crafted like natural wood
Standard size, easy to apply
Resysta is manufactured in extruders, creating standard profiles (modules). Each piece of wood has a standard size and is easy to work with. So you can completely install and apply it to create unique highlights for each of your projects.
Resysta is 100% recyclable
Building materials are currently focusing on the environment as the main concern. Resysta eco-wood was born with beautiful, durable, and classy features while still protecting the environment. Especially deforestation around the world.
Because the composition of Resysta does not contain wood, it means that no trees have to be cut down to produce this product. Therefore, it contributes to preserving the green lungs of the earth. 
In addition, the production process as well as the by-products from the ecological wood production process can be recycled up to 100%. Contributing to the protection of the living environment and ecosystem.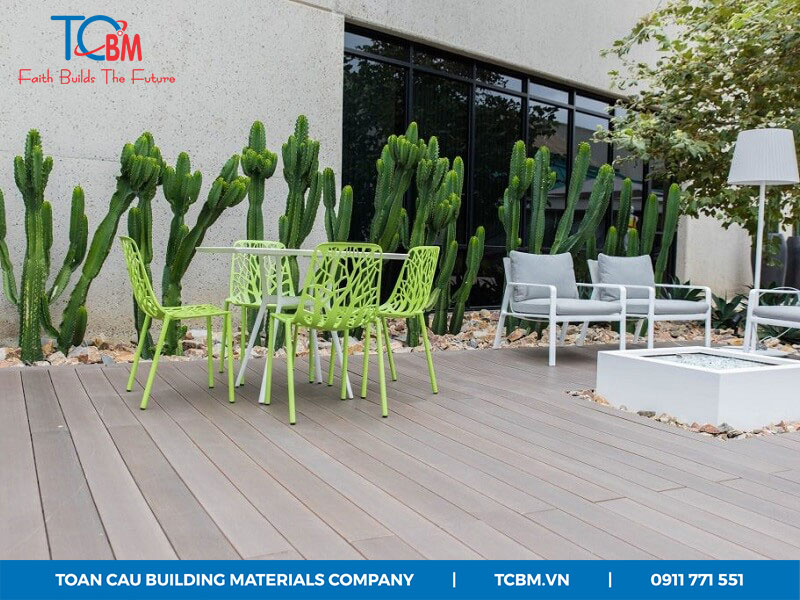 Resysta is an extremely eco-friendly material
Applications of Eco-wood Resysta
The goal of the manufacturer Resysta is to be able to apply science and technology to create a green product like natural wood, overcome the disadvantages of natural wood, and can completely replace them. In almost every building that can be built with wood, Resysta can be applied.
With the above outstanding advantages, you can choose Resysta eco-wood for spaces such as spas, saunas, cold rooms, saunas, flooring, and decoration for houses, villas, yachts, ships, and many other public works such as cafes, restaurants, hotels, etc.
Aqua Mekong ship using Resysta wood
Decking
The most popular application of Resysta is for outdoor wood flooring, especially swimming pool decks. This is all thanks to Resysta which is waterproof, slip-resistant, and can withstand extreme weather. Along with that, choosing Resysta also helps to save maintenance costs but still ensures the quality of the work.
Resysta pool floor is not mossy, anti-slip
Siding and wall cladding
Resysta can be used for ceiling tiles, and wall tiles for buildings. You can use Resysta for indoor and outdoor projects without any worries.
In addition, Resysta is easy to cut and join, so you can create "works" that express your style.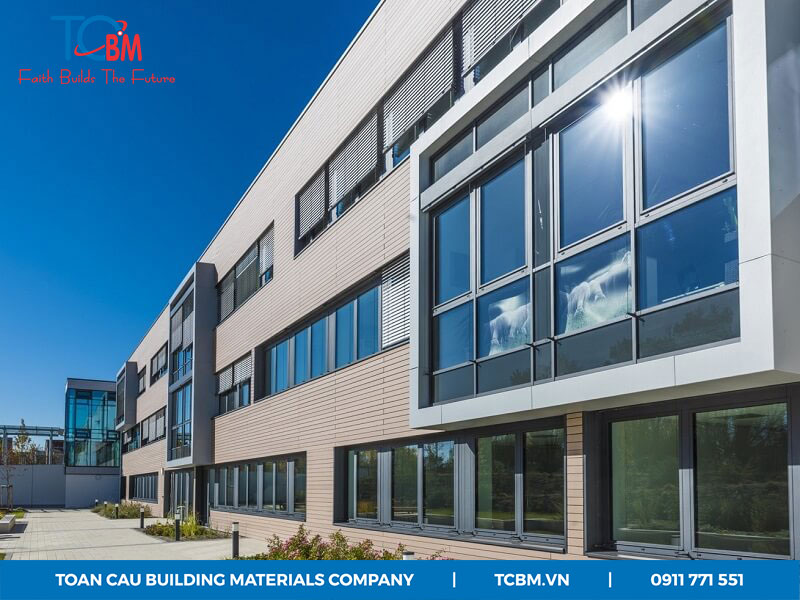 Resysta is used for outdoor wall cladding
Decorate
In addition to the two applications mentioned above, people also choose Resysta to make decorative slats, pergolas, and balconies or produce interior and exterior products, household appliances, etc. Not only can we meet the needs of our customers, but using Resysta also creates aesthetic value for the space.
Sunshades from Resysta make the building more modern
Standards and certifications
Resysta eco-wood has been tested and meets the following international standards:
Decking Profile and Wall Cladding Profile – ASTM E84 – Fire Rating A.

BS 476 Part 6 & 7: Class 1.

DIN 51094: Class C

Green Label Singapore.

LEED.
Awards
Green Product Award 2018

Reddot 2012, 2016, 2017

MaterialPREIS 2013

Detail Competition 2017

Design & Product Award from DWELL 2011

The price for innovation Architecture AIT 2011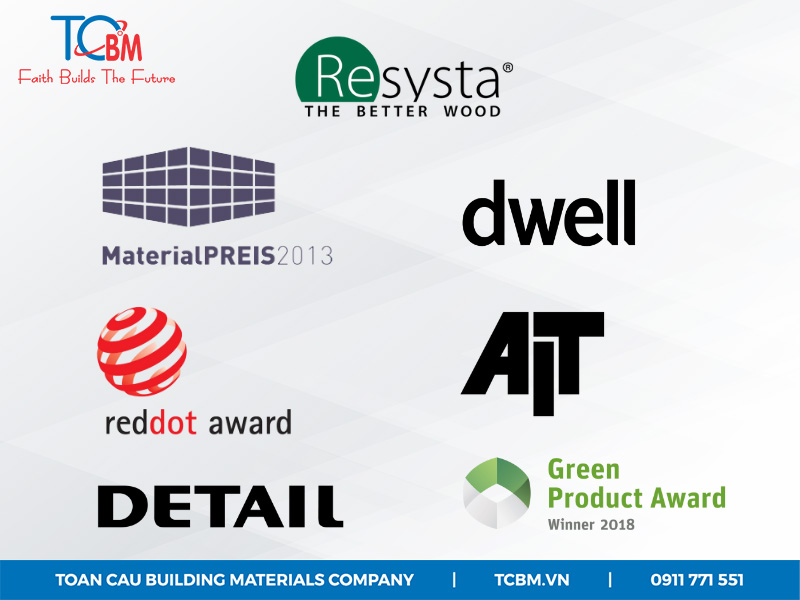 Color coat system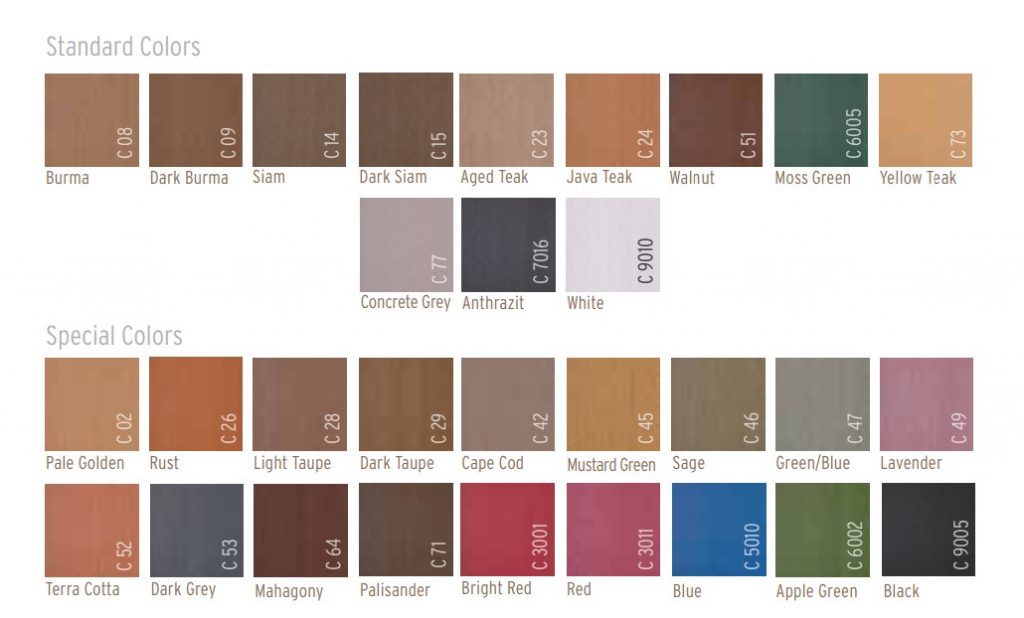 Color coat system of Resysta
Contact TCBM at hotline 0911 771 551 for advice and quotation.