Techical Data
Longs

455mm/ 610mm

Width

100mm - 343mm

Useful length

85mm - 245 mm
TC Roofing red cedar roof from Canada brings a friendly rustic beauty and enhances the natural beauty of wood, the product gives a special impression to the designs. Classical or contemporary architecture. The difference in weather conditions and soil will give the wood roofing its very own beauty on each wood grain, cedar oil also brings a very specific natural aroma.
TC Roofing is a wood roofing product that is resistant to termites, high moisture, completely free from mold attack, but also has the ability to kill bacteria to clean the air, good for health user. Red cedar has proven longevity over hundreds of years but still ensures quality and brings useful feng shui value.
Features
Environmentally friendly
Long warranty period
Anti-tornadotal UL 2218
Withstand strong earthquakes
Self-resistant to moisture, against harmful insects and mold
Natural wood roofing sheets treated by the CCA Process guarantee a product life of up to 50 years when used as roofing material
Certification
PEFC Chain of Custody Certification.
CERT – 0079106
ESR 2573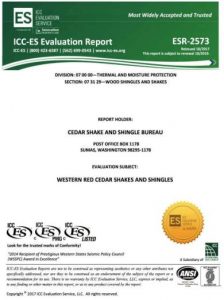 MIAMI DADE APPROVAL