About the Intraco Factory
See Hau Global Sdn. Bhd is a leading Malaysian manufacturer and marketer of Intraco Pallets – Eco-Plastic Pallets – High-quality Malaysian plastic. The company was founded in 1994. At first, the company only had one die-casting machine.
See Hau Global's products meet the stringent requirements of the American Society for Testing and Materials (ASTM), Japan Industry standards (JIS), and ISO standards.
See Hau Global uses the latest and most advanced technology in the production of plastic pallets – an innovative revolution in the production process involving molding and compression molding techniques. This technique enables new advancements in the use of materials, and so, the results of Pallet production achieve breakthrough results – Pallets for heavy goods are durable and still economical. Intracopallet provides efficiency & Performance.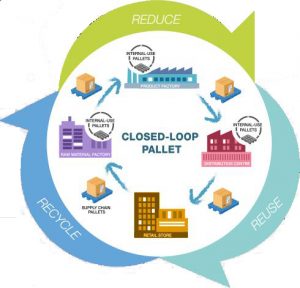 About Pallet Intraco products
IntracoPallet® – Environmentally friendly plastic pallet. Using IntracoPallet™ in your production or supply chain, you can:
Reusable Pallets many times.

Exchange old/unusable pallets for recycling.

Promoting the 3R concept – Reduce, Reuse, and Recycle.

Minimize your impact on the environment.
For the environment
Product standards
IntracoPallet® is germ-free and washable; the above conditions help you comply with the following regulations:
GMP, HACCP & ISO22001 (food safety).

Does not contain ISPM -15 (for export).

5S (clean production environment).

ISO 9001:2008 (quality management system).

ISO 14001:2004 (environmental protection).
Production process
No Repair.

No need to clean the wood dust on the factory floor.

Reduce product damage.

Shorten the production time.

Reduce administrative work (not much adjustment for Pallets).

Minimize trouble.
Commitment
Safety and Hygiene: No pollution, absolutely GMP, HACCP, and ISO 22001 certificates for the environment.

Compliance with ISPM-15: Simple procedures, reducing administrative work, Easy and fast clearance through import customs, and No worries about tax penalties and fees.

RoHS Compliant: No Concerns About Exporting to Europe.

Consistent quality: Packed securely, quality, and reliable.

Production line: Smooth line operation, reduced production line downtime, increased production line speed.

Lightweight: Not overloaded when loading, easy for employees to move.

Value: Can be used for 5 – 10 years, creating favorable conditions for recycling – reuse, saving nearly 50% of the use time over five years compared to wooden pallets.
Certifications (Accolades)
BS EN ISO 14001:2015 Certified Pallet Manufacturer.
ISO 9001:2008 Certified Pallet Manufacturer.
SME Export Excellence Award.
SME Green Excellence Award.
BS EN ISO 14001:2015 Certified Pallet Manufacturer
ISO 9001:2008 Certified Pallet Manufacturer
SME Export Excellence Award
SME Green Excellence Award
Contact TCBM at hotline 0911 771 551 for advice and quotation.