Techical Data
Length

3850 mm

Total height

288 mm

Usable height

250 mm

Usable area

9.625m2/pack
MAX-3 SYSTEM NATURE
The MAX-3 system helps to create an aesthetically pleasing facade. Panels from the nature collection are made using thermal printing technology. Thanks to these techniques, our panels are highly resistant to mechanical damage and sunlight. The wood pattern on the siding is even more diverse and interesting, it looks like natural wood.
SOLUTION DESIGNED FOR EXTREME CONDITIONS
The MAX-3 system is the result of the search for the ideal facade system, which is endowed with the advantages of both vinyl and metal siding and at the same time eliminates their disadvantages. Thanks to the use of our innovative, three-layer technology the MAX-3 siding panels have high resistance to mechanical damage, previously available only for metal siding, and high resistance to low and high temperatures.
STRUCTURE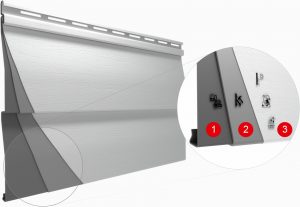 1. LIMITED LINEAR EXPANSION
The first layer gguarantees shape stability and help when installing, regardless of the ambient air temperature.
2. INCREASED IMPACT RESISTANCE
The second layer provides the panels with increased resistance to mechanical damage.
3. PRODUCT RESISTANCE TO WEATHER CONDITIONS
The third layer is responsible for UV resistance; wood texture; structure to limit contamination of the panel, guaranteeing an excellent appearance of the facade for many years.