Technical Data
Material type

Nitrile butadiene rubber closed cell structure

Assembly

Lightweight and flexible

Density

48 to 70 kg/m3

Color

Black

Temperature Range

-200°C to +116°C

Thermal Conductivity

λ ≤ 0,032 W/(m.K) at 0°C

Water vapour diffusion resistance

μ > 10,000

Fire efficiency

Surface spread of fire reaches Class 1 Flame transmission: performance index (I) 12 Sub-Index (i1) 6 Combustion efficiency: Class 0

Water vapour permeability

1.4x10^-11 g/m.s.Pa

Water Absorption

0.1%

Fire performance

Surface Spread of Flames: Class 1 / Fire Performance: Class 0 (BS 476 Part 6 & 7)

Self-extinguishing

V-0/5VA (UL 94)

Other Fire Class

FSI = 25 / SDI = 30 (ASTM E84); Ignitability Index: 0; Spread of flame Index: 0; Heat evolved Index: 0; Smoke develop Index: 3. (AS1530.3)

Noise reduction coefficient

NRC = 0.4

Acoustic insertion loss

35dB

Chemical behavior

Excellent resistance to ozone, oil and chemicals
K-Flex ST insulation in tubes and plates
Application
K-FLEX ST is a multi-purpose flexible elastomeric thermal insulation with a built-in vapour barrier and a closed cell structure, this makes K-FLEX insulation a high resistance to water vapour transmission which in turn enable the material to maintain a high level of energy conservation efficiency.
K-FLEX ST is a dust and fiber-free insulation that makes it an ideal product for apartments, commercial buildings, industrial plants, the oil & gas industry, marine and offshore applications.
K-FLEX ST is the ideal choice for:
Refrigeration pipework.

Large pipes and tanks.

Hot water piping system.

Chilled water piping system.

Ducting system.

Drainage system.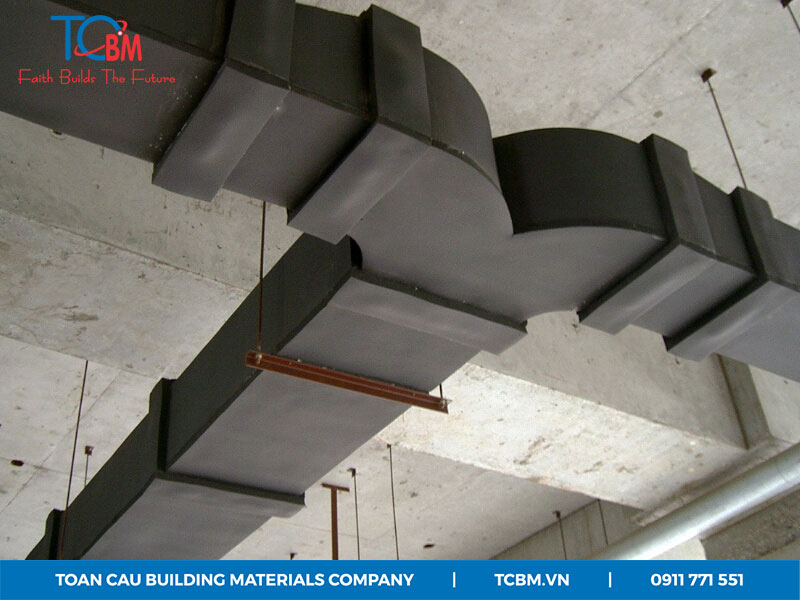 K-Flex ST is used to insulate ductwork
Advantages
Low flame spread
When fire-tested K-FLEX ST, it does not generate flaming droplets and has a low fire propagation index. These combined meet the fire performance requirement of class "0" as defined in Building Regulations. Further guarantee is given by supervision contracts with independent European laboratories.
High water vapor diffusion resistance
K-FLEX ST closed cell elastomeric insulation has a high water vapor diffusion resistance factor µ, that minimizes water vapor penetration, giving an excellent long-term performance.
Very low thermal conductivity
K-FLEX ST thermal coefficient is λ 0°C = 0.032W/(m·K). The thermal conductivity coefficient is the most important factor in calculations focused on energy saving.
Nitrile Butadiene Rubber material for effective insulation
Certificate
BS 476 Part 7: Class 1.

BS 476 Part 6: Class 0.

FM Approved.

Greenguard – Gold.

Singapore Green Building Product – Excellent.

UL Environment Type III EPD.
BS 476 Part 6 & 7
UL 94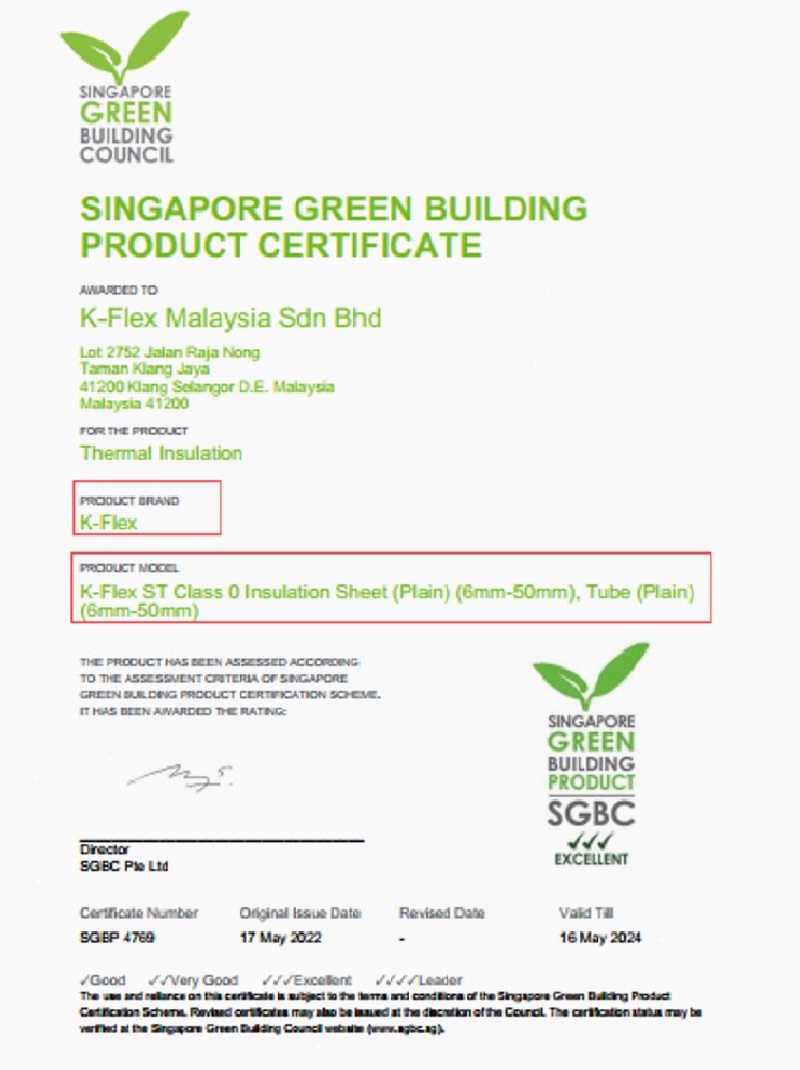 Singapore Green Building Product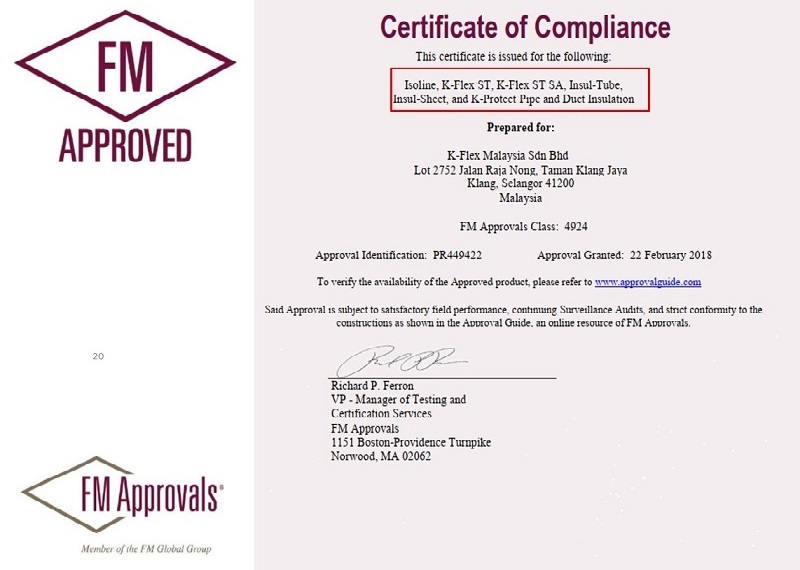 FM Approved
Greenguard
About K-Flex
K-FLEX is the world's leading manufacturer of elastomeric insulation systems. In fourteen production facilities around the world, including Poland, France, China, India, Korea, Malaysia, Dubai, Egypt, the UK and the USA some 2,500 employees develop and manufacture outstanding product solutions for thermal and acoustic insulation.
K-FLEX is committed to ensuring its products comply with fire safety and industry-wide safety standards.
K-FLEX has 63 sales offices on five continents, offering premium service to more than 50,000 customers.
As the world's fastest-growing company in the industry, K-FLEX is also a global player in the target markets of building services, refrigeration, air conditioning and ventilation, rail, shipping, automotive and beverage industries as well as the solar industry and OEM businesses.
K-FLEX has ISO 9001 and ISO 14001 certifications.
Dimensions
K-FLEX ST tube is available in 2 meters in length. In sheet form, K-FLEX ST is available in roll or pre-cut sheet. All sheet material is available with or without self-adhesive and/or self-adhesive and aluminum foil. All tube material is available with or without aluminum foil.
K-Flex ST Tube (2 Metres)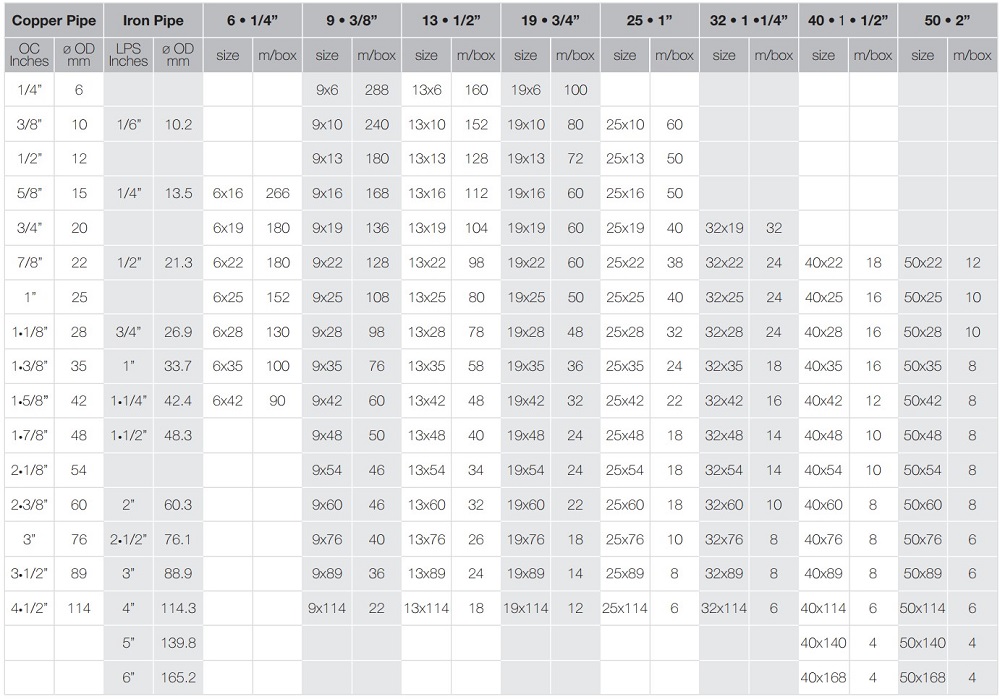 K-Flex Sheet in rolls
Contact TCBM at hotline 0911 771 551 for advice and quotation.