Technical Data
Color

White

Capacity

300 ml

Tack free Time

7 min

Tensile Strength

1.76 MPa (ISO 37)

Elongation at break

43.7% (ISO 37)

Bonding Strength (3 days)

0.53 MPa

Shore A hardness

65 (ASTM C 661)

Bearing Capacity

30 kg/cm2
Features
Fast setting.

Excellent adhesion.

No odor.

Weather resistance.

No corrosion.

Excellent chemical resistance.

Non shrinkage.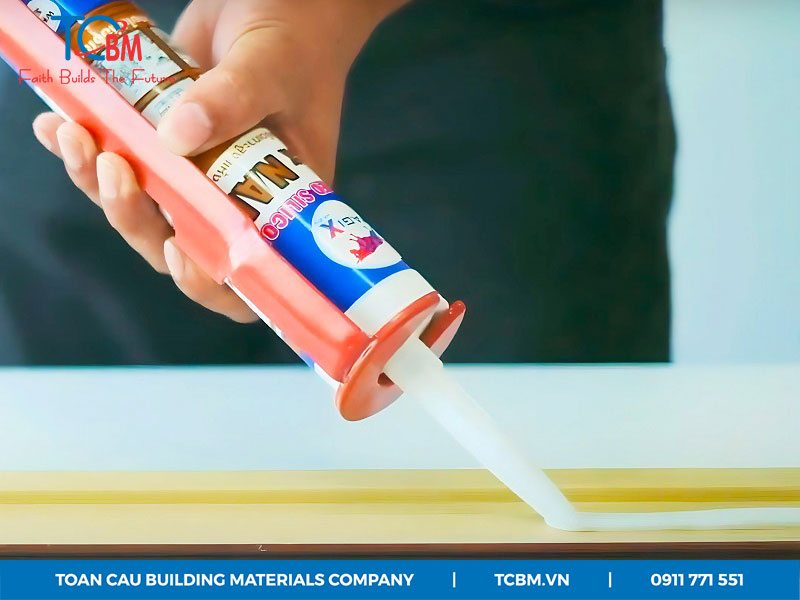 Quick Nail has good adhesion bonding
Applications
Quick Nail is suitable for various building materials such as aluminum, metal, PVC imitation stone, concrete, wood, gypsum, stone tiles, glass, etc. Therefore, it can be adhesive for aluminum facade cladding, tiles and stone, wood interior and exterior, mirrors and accessories, etc.
Adhesive for Aluminum facade cladding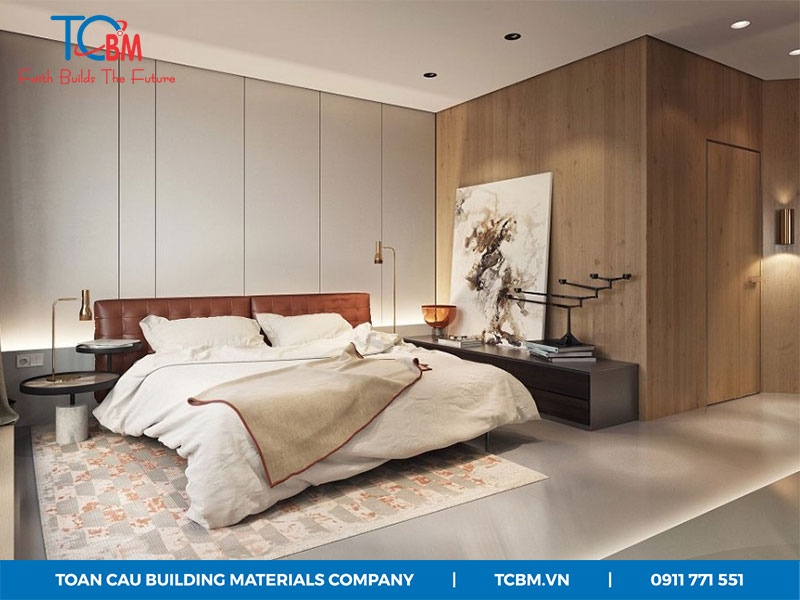 Adhesive for wood interior
Adhesive for tiles and stone
Adhesive for mirrors and accessories in the bathroom
Instruction
Step 1. Cut the tip of the cartridge, and cut nozzle at 45 45-degree angle.
Step 2. Insert cartridge into the caulking gun and apply it on the materials.
Step 3. Should be used within 5 minutes and leave the area before use 24 hours.
Use a caulking gun to apply Quick Nail
Note when using Quick Nail
Before applying Quick Nail adhesive, it is necessary to clean the surface of the material. This helps to ensure the adhesion and the life of Quick Nail.
After cleaning the material's surface, you should apply Quick Nail immediately, within a maximum of 60 minutes. This helps ensure that dirt does not stick back to the material's surface.
In addition, the manufacturer's instructions must be fully followed. At the same time, estimate accordingly, avoid using too little as it will cause poor adhesion, or use too much will cause waste.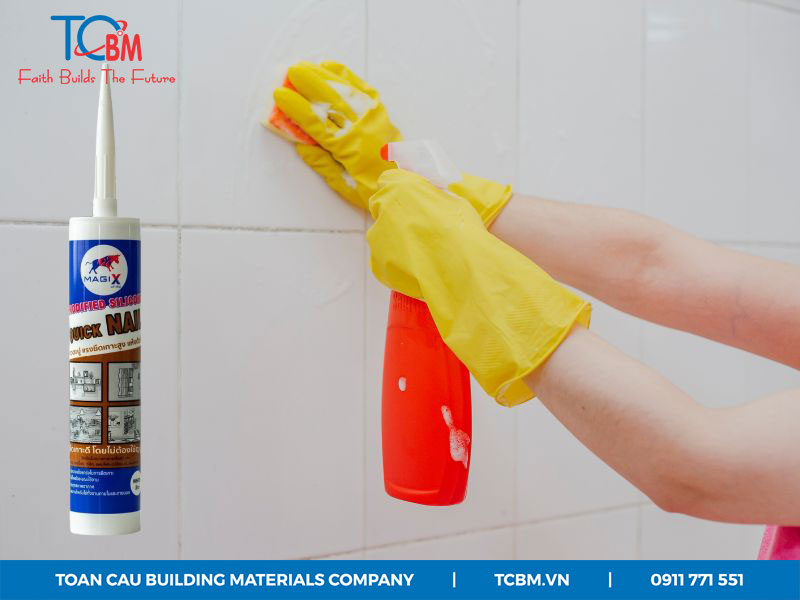 Clean the material surface before applying Quick Nail
Recommendation for use
For the best result, finish the whole cartridge after opened. Remaining in the cartridge, keep it tightly and avoid moisture in atmostphere. 

On year after manufacturing date when stored unopened in dry. 

Store the product at room temperature (about 25℃). Store in a cool, dry place, and avoid direct exposure to sunlight.

Keep out of reach of children.
Store Quick Nail in a cool place and avoid direct sunlight
Toan Cau Building Materials Company – distributor of Quick Nail adhesive in Vietnam
Toan Cau Building Materials Co., Ltd – TCBM is a distributor of Quick Nail Quick Nail modified silicone adhesive in Vietnam. With 15 years of reputation in the construction materials industry, providing the world's leading material solutions, we are committed to providing genuine products, ensuring origin and best quality.
TCBM has a team of enthusiastic and professional consultants who will always be ready to answer your questions. We believe that we will bring quality products, peace of mind, and the most satisfaction. Please contact TCBM at hotline 0911 771 551 for a quote and detailed information.
Quick Nail modified silicone adhesive distributed by TCBM
TOAN CAU BUILDING MATERIALS COMPANY LIMITED
Headquarters: No. 21, 63-TML Str., Quarter 1, Thanh My Loi Ward, Thu Duc City, Ho Chi Minh City
Hanoi Office: R.1125, Viet A Tower, No.9 Duy Tan Street, Dich Vong Hau Ward, Cau Giay District, Ha Noi
Email: toancau@tcbm.vn
Hotline: 0911 771 551