Techical Data
Length

1000 mm ± 3%

Width

340 mm ± 3%

Thickness

4.7 mm ± 10%

Copper layer thickness

300 μm ± 3%

Packing specification

4.06 m2/pack; 8.5 kg/m2
If you care about quality and difference?
TC Roofing Copper will be the focal point of any choice.
TC Roofing also has a multi-layer construction with a toughened fiberglass mat and layers of bitumen for waterproofing. Copper roof products have been used for centuries throughout Europe on famous castles, cathedrals, churches, government buildings, and private residences.
TC Roofing copper roofs, each style is the highlight that makes a difference for the ant architectural masterpiece; installation on round, curved surfaces is not too tricky quickly and does not require protective coating like other metal roofs.
Standard
DIN EN 13501 – 5
DIN EN 1187
Florida Building Code
EN 544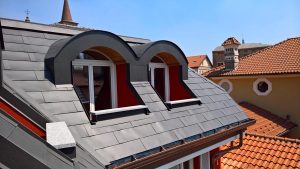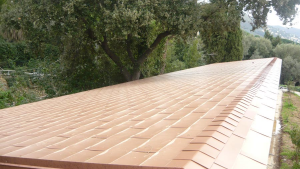 Outstanding Features
The unique technology of the difference makes the famous Dong roof product brand in the world, from the outstanding luster of the winter to the luxurious beauty of the roof of the building.

Patented design for creating a buffer zone between shingles makes the roof virtually fireproof, withstanding rain, storm, and thunder levels.

The excellent roofing material for earthquake-prone areas, the degree of which is confirmed by ancient Roman architectural styles and embodiment of abundance like the Hermeoca Palace, the building of the Moscow Kremlin.

The uniqueness of copper naturally begins to oxidize once it is installed. Over time, the roof will change tones from brilliant bronze to deep bronze and a distinctive blue.