You may not know, 80% of roofs in North America use bitumen covered with stone for roofing and in the Vietnamese market in recent years, Bitumen roofing sheets have been quite familiar to everyone when participating in many projects. major works and projects.
Overview of the waterproof membrane IKO Stormshield
TCBM is very pleased to have imported the IKO stone coated Bitumen roofing sheet "Full Package" to accompany the high-quality constructions of our country. Why "Full Package" should be? Because to make a quality construction product, we not only focus on the main materials but also the accompanying accessories, and here I would like to introduce to you the  IKO Stormshield waterproof membrane.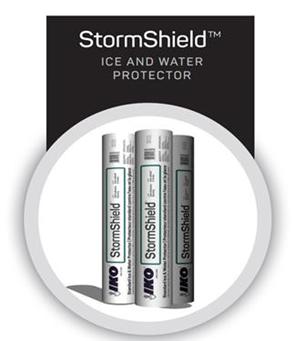 The IKO Stormshield Waterproof Membrane is composed of an elastic, non-woven fiberglass sheet that is permeable and coated with adjustable bitumen to a thickness of approximately 1.05mm. The top of the film is coated with a fine mineral substance to help prevent slipping, the bottom is a silicone film that protects the self-adhesive base and can be handled easily during use. Products are imported genuine from USA/Canada.
Application of IKO Stormshield waterproof membrane on roof system:
With IKO Bitumen roofing system, after cleaning the roof surface (concrete, wood, OSB, …), the construction worker will apply a layer of water-based Pimer 7151 to stabilize the roof shape, followed by spreading the coating. IKO Stormshield waterproofing membrane before roofing Finished roofing sheet.
Because of the application on the roof system, it will be affected by temperature, humidity and many other natural factors. With conventional waterproofing membranes, it will be difficult to match the bitumen roof system because when the temperature is high, the normal waterproofing membrane will expand too much causing deformation of the roof shape, or dew when high humidity causes damage. broken roof structure. With the IKO Stormshield waterproof membrane, thanks to the reinforced mineral particles, these problems will be minimized.