K-FLEX Isolation Adhesive K-414 has been specially designed for the bonding use of K-FLEX elastomeric rubber insulation.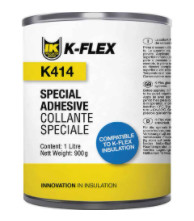 The use of special glue for K-FLEX insulation will have the following advantages:
K-Flex K-414 glue has good adhesion, black color, suitable for use on rubber insulation products, ensuring adhesion and aesthetics requirements for pipes.
The bonded surfaces and joints ensure resistance to aging and atmospheric agents, and also to the technical properties of the insulation.