1. Material composition
Flame retardant paint FLAMEBAR BW11 is a water-based fire retardant paint manufactured by a mixture of selected mineral particles from a low-permeability elastomeric binding compound. The product can resist fire from 2 to 4 hours with a straightforward construction solution; spray paint on the cleaned duct surface. Thicknesses range from 0.7mm to 1mm, allowing ductwork to be designed in a narrow space with high material requirements and low maintenance, especially in harsh environments. The finished system is tested to BS476 Part 24 and ISO 6944 standards up to a temperature of 1,133°C and is certified by LPCB, UL, and Vietnam Fire Department.
2. Specifications

 The fireproof material is a water-based coating mixture containing mineral particles.

All fireproof ducts made from galvanized steel and stainless steel (or steel pipes with antirust coating) must be tested to standards and protected with a flame-retardant coating in the form of paint. The air hose is manufactured in parts and connected by fireproof tested tooth and glue. Every time it is fitted, if required by the engineer, it shall be pressure tested according to DW144 and SMACNA following the duct pressure classification. The protective coating is at least 0.7mm thick (after drying).

 Fireproof ducts must comply with BS476 chapter 24 (1987) and ISO 6944 (1985) for 2 hours for stability and integrity for internal and external duct testing. The smoke exhaust duct must be kept at least 75% of its cross-section for 2 hours.

All symbols for the ventilation system shown on the drawings must be designed to resist fire within 2 hours as the local Fire Prevention and Fighting Department prescribes.

 All seals and silicones must be non-flammable and should be supplied by the same manufacturer.
3. Applications
Application of fireproof paint for smoke extraction systems, pressurizing stairs, exit corridors, and kitchen chimneys.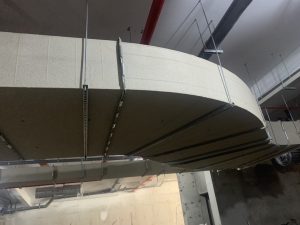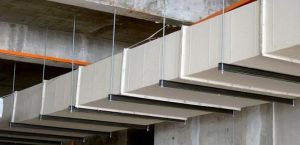 4. Installation
The suspension bar system must be installed with a maximum distance of 1,500mm.
The size of the hanging rod and the support is calculated to reduce the elongation during the burning process. In the standard inspection and evaluation report BS476 chapter 24 and ISO 6944 showing the dimensions of the suspension rod, the support is calculated to reduce the elongation during combustion from 430N/mm2 to 10N/mm2 within 2 hours.
Fireproof ducts must be manufactured and assembled by the requirements of BS 476 chapter 24 (1987) and ISO 6944 (1985).