Technical Data
Describe

Circulating rubber, elastic closed cell structure

Characteristic

Insulation

Weighting

50-70 kg/m3

Color

Black

Thickness

6mm

Absorbing sound

35dB (A)

Permeability resistance coefficient

µ > 7,000

Thermal conductivity coefficient

0.036 - 0.04 W/m.K

Water absorption coefficient

0.9% by volume (after 28 days)

Limited Oxygen Index

Minimum 35%

Operating temperature

-40°C to +105°C

-40°C to +105°C

15mm x 6mm x 15m / 20mm x 6mm x 15m / 40mm x 6mm x 15m

Longevity

12 months when stored in an enclosed container

BS 476 Part 6 - Fire Propagation

Class 0

BS 476 Part 7 - Surface Spread of Flames

Class 1

BS 476 Part 24 và ISO 6944

Up to 4 hours in terms of stability, integrity and insulation when roong is used between the flanges of the windpipe (BS 476 Part 24 và ISO 6944)
Advantages
The advantages of Flamebar Fire Retardant Gasket are:
Self-adhesive with easy-to-peel finger lift use.

It will not shrink or degrade in normal use.

Unaffected by water or moisture.

Maintainance free.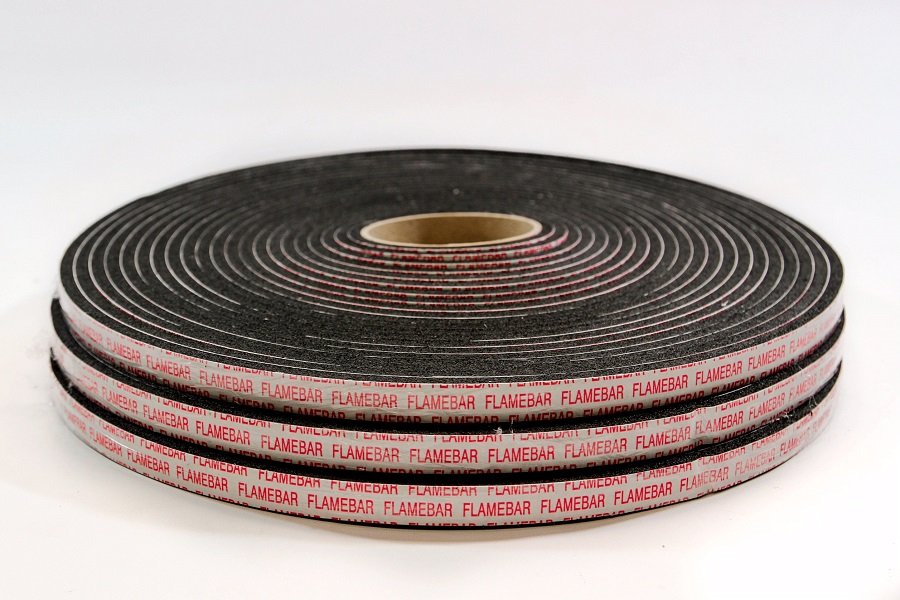 Installation
Simply remove the backing paper by peeling it off as the gasket unwinds.

To position apply the gasket to one surface and locate and fix flanges together.
Compliance
Flamebar Fire Retardant Gasket is manufactured in the EU, meeting the highest quality control standards in compliance with ISO EN 9002.
Storage and Handling
Flamebar Fire Retardant Gasket should be stored in dry, cool conditions. Shelf life is 12 months. 
Contact TCBM at hotline 0911 771 551 for advice and quotation.