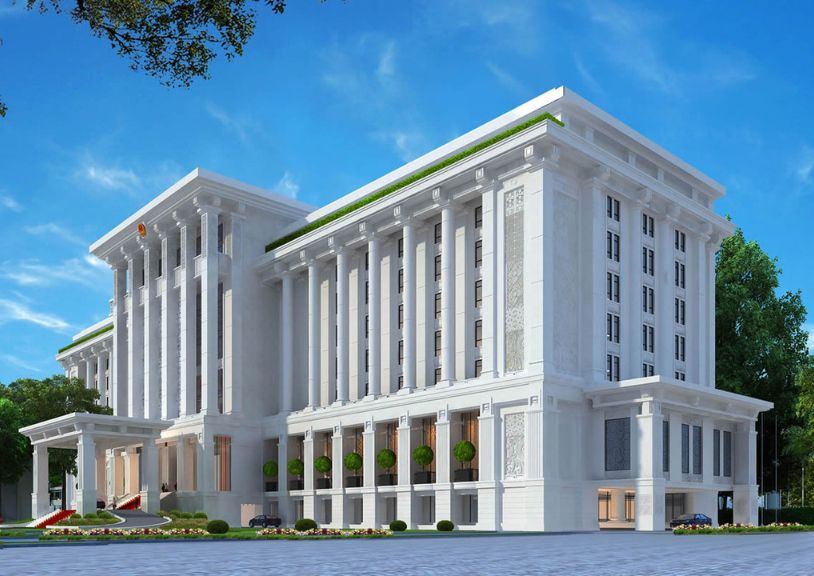 Government Office is located at No.1 Hoang Hoa Tham street, Ba Dinh District, Ha Noi Capital, nine floors high and has three parking lots basements. The Government Office is a ministry-level agency in Vietnam that assists the Government and the Prime Minister. Toan Cau Building Materials Company (TCBM) was proudly appointed as the supplier to deliver the best standard items with a construction contract value. After only 12 months of construction, the City hall of 10.000m2 was completed and handed over in 2014. As usual, the Chief of the Government Office would work at the place without any disturbance, and they evaluated all the processes of building materials every day.
Toan Cau Building Materials Company (TCBM) is pleased to be the exclusive distributor of Flamebar BW11, Flamebar Sealant, and Flamebar Gasket for the Government Office. We are committed to superior product quality, providing a good experience for users.
This is a water-based fire retardant paint manufactured by a mixture of selected mineral particles from a low-permeability elastomeric binding compound. With a straightforward construction solution, the product can resist fire for 2 to 4 hours. Just spray paint on the cleaned duct surface. Thicknesses range from 0.7mm to 1mm, allowing ductwork to be designed in a narrow space with high material requirements and low maintenance, especially in harsh environments. The finished system is tested to BS476 part 24 and ISO 6944 standards up to a temperature of 1,133oC and are certified by LPCB, UL and Vietnam Fire Department.