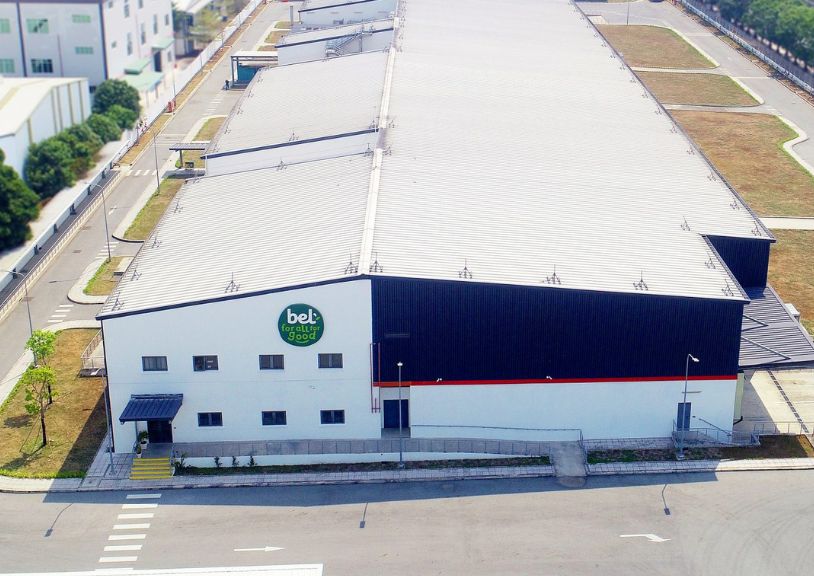 Bel Greenfield Factory is a factory of BEL Vietnam (Member of Bel Group). Bel Group, a multinational cheese maker (such as Con Bo Cuoi, Kiri, Babybel, Good, Regal Picon, etc.) and distributor from France, opened their first factory in the Asia Pacific in Vietnam. Toan Cau Building Materials Company (TCBM) was proudly appointed as the supplier to deliver the best standard items with a construction contract value. After ten months of construction, the factory on 5 hectares was completed and handed over in April 2016. Bel Vietnam factory has a UHT technology manufacturing line that complies with strict European hygiene and quality standards. Their unique plant features include intelligent systems and an automatic water cooler to accommodate the required temperatures. The company was founded in 1865 by Jules Bel under Establishments Jules Bel in Orgelet. As of 2015, the Bel Group was established in 33 countries, and its products are sold in 130 countries.
Avenue: BEL Binh Duong Factory, Song Than Industrial 3, Ben Cat District, Binh Duong Province. Items: Armacel Insulation Armaflex class 1 & 0
Armacel (originated in Korea) is an insulation product manufactured by Armacell Corporation, in the form of a coil of fibre impregnated with Aerogel compound, equipped with a vapour barrier aluminium foil on the surface to resist frost condensation on the surface. In particular, Airgel – a super light silica compound with 90% air, impermeable to water, is the best insulation compound available today.
Toan Cau Building Materials Company (TCBM) is pleased to be the exclusive distributor of K-flex St Insulation of pipes and plates for Bel Greenfield Factory. We are committed to superior product quality, providing a good experience for users.