Techical Data
Maximum operating temperature

-180°C to +250 °C

Thickness

5mm, 10mm, 15mm, 20mm

Proportion

160 – 240 kg/m³ (10-15 lbs/ft³)

Heat conductivity coefficient

0.015 (W/m.K) at -129oC 0.021 (W/m.K) at 24oC

Water vapor permeability coefficient

≤ 5% by weight/ ≤ 5% khối lượng

Water permeability coefficient

≤ 8% (before conditioning) ≤ 8% (trong điều kiện thường)

Surface water vapor permeability

0.0 perm-In Không thẩm thấu

Fire characteristics

FSI < 25 SDI <50

Surface Flammability, Smoke and Toxicity

Meet IMO Part 2&5

Corrosion performance

Approved

Steel Corrosion

Corrosion rate < corrosion rate of 5 ppm chloride solution on steel surface

Flexibility

flexible

Compression resistance

Requires > 5 psi (20.7 kPa) compressive force to compress 10% of sheet thickness

Shrinkage coefficient

< 2% theo chiều rộng và chiều dài

Anti-mildew

No growth
ArmaGel (originated in Korea) is an insulation product manufactured by Armacell Corporation, in the form of a coil of fiber impregnated with Aerogel compound, equipped with a vapour barrier aluminum foil on the surface to resist frost condensation on the surface. In particular, Airgel – a form of super light silica compound with 90% air, impermeable to water, is the best insulation compound available today.
ArmaGel  has the effect of limiting energy loss, condensation on the surface, reducing noise and preventing fire for industrial refrigeration pipes; Especially, it limits the process of corroding the material under the insulation layer thanks to its hydrophonic ability and the one-way valve mechanism that allows the steam on the pipe surface to pass through the insulation and escape. From there, saving the cost of replacing and repairing pipes every year.
Application
The product is suitable for insulation refrigerant chemical industry pipes with deep cold such as liquefied petroleum gas (LPG) pipes, liquefied natural gas (LNG) pipes, industrial gas separation treatment systems, etc.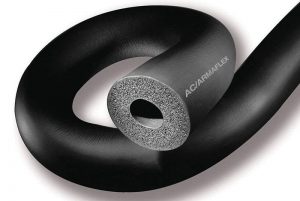 Superior characteristics compared to conventional refrigeration insulation:
Lowest coefficient of thermal conductivity: the product has the best insulation, saves the most effective energy consumption.
Wide operating temperature range (from -180oC to +250oC): ArmaGel  is suitable for most equipment, technology pipelines of refrigeration, gas energy industries.
ArmaGel has thin thickness (5mm – 20mm), light, flexible: saves space in use, suitable for installation in areas with limited space; reduce the installation load on the pipes; reduce storage area; easy transportation; save construction time, easy to install at valve, flange, bend, tee…
Water resistance (hydrophonic): minimizes the possibility of water entering the piping equipment, leading to frost freezing on the surface of the equipment and insulation. Thereby minimizing the possibility of material damage and minimizing the annual cost of repairing equipment systems.
Mold resistant, environmentally friendly.
Doesn't freeze or deform before the impact of external forces and temperature rise and fall.
Can be applied directly on active pipelines: eliminating the cost of shutting down the system at the factory during construction.
Manufacturing unit (Armacell corporation):
As the inventor and developer of safe insulation and soundproofing solutions, Armacell has made a significant contribution to global energy efficiency. With more than 3,000 employees and 24 manufacturing plants in 16 countries, the Armacell group focuses on developing two main businesses: Insulation and technical foam. With modern production technology, Armacell's products provide effective heat and sound insulation, widely used in air conditioning systems and high-tech industries.
ArmaGel Distributor in Vietnam
Global is currently the exclusive distributor of ArmaGel as well as other insulation products of Armacell Corporation in Vietnam. We find that ArmaGel products in particular and Armacell's products in general are completely consistent with the initial goal we set out to bring customers new, effective and quality solutions. in construction material supply.
With more than 10 years of experience and one of the leading units in the field of insulation, Global is committed to bringing customers the best quality products and services.
* References:
– Construction instructions:
https://www.youtube.com/watch?v=9xrvqhAhR4Y
https://www.youtube.com/watch?v=UKExIEmp9-Y